www.transitiontownchesham.org.uk
HONEY BEES: WHAT THEY DO AND HOW THEY DO IT
A talk by Sheila Borwick of the High Wycombe & District Beekeepers Association.
Come and learn about the fascinating world of these essential creatures!
Come to Green Drinks this month on Thursday 26th August at 7.30pm (for 8pm start) at The Drawingroom Cafe in Chesham.
We hope you can join us and please do bring along a friend!
There is a £3 per head charge to cover the venue and feel free to BYO or you can purchase coffee & cakes etc. as usual from The Drawingroom kitchen.
---
Chesham Local Produce Market
The next market is taking place on Saturday 28th August in Market Square, Chesham and runs from 10 am to 2 pm.
The market features local producers from a c. 10 mile radius of Chesham and goods on sale include apple juice, honey, cakes, water buffalo meat, pork, cheese, rapeseed oil, eggs, cupcakes and wine. This month's community stall is being run by Walkers Are Welcome so that people can find out more about the local campaign to get people exploring the fantastic walking on offer in the area.
For more information, please see:
www.chesham.gov.uk/Market/Chesham_Market.aspx
The local produce market is organised by Chesham Town Council and Transition Town Chesham.
---
Rafe's Place, set up in memory of the late Rafe Chiles, is a community based organisation dedicated to finding a solution to the problem of youth boredom in the Buckinghamshire area whilst providing facilities which are beneficial to the community at large.
September 11th will see the second Day in the Park event taking place in Lowndes Park, Chesham, and will encourage the local community to ignore the barriers of age and background, and enjoy a free day of music, art and culture together. Main attractions of the day include a Live Bands Stage presented by Alternator Promotions and Ultimate Solution, as well as a Cultural Stage showcasing some local acoustic, Blues, Folk and Jazz talent, with a licensed bar, plus a DJ Tent run by Yard Music with an eclectic mix of dance music.
There will be a professional skateboarding demonstration, competition and skate park PA system courtesy of Pete King and King Ramps, plus, there will be a selection of stalls, food and drink spread across the park.
Day in the Park 2010 has gratefully received funding and/or support from Chiltern District Council, Bucks Community Foundation, Local Area Forum and Chesham Action Partnership.
---
ACTORS REGISTER
THE SELECT VIDEO GROUP OF AMERSHAM (SVGA) is an Amateur Group of Film makers run by two ex-professional film producers.
During the past eighteen months we have produced three short 10 minute productions, and expect make at least another one or two before the end of the year.
We are looking to increase our Actor's Register and require more Amateur actors in all age groups.
If you would like to join us, please e-mail HRHvideo@tiscali.co.uk for further information, if possible attaching a recent photograph, adding your age, address, and phone number.
Our next Group production will be shot on October 30th in Amersham, and auditions and a read-through will take place shortly.
Please get in touch – you may only be a step away from Hollywood!!!
---
Exclusive B2B Networking Event For Local Businesses
Join Chiltern Leads and many other organisations at this not to be missed annual networking evening at Chenies Manor on 16 September 2010. The event is complimentary for all local businesses and is a great way to make business connections in the local area. Check out www.chilternleads.org.uk or call Martin Vessey on 07834 518428 for more information.
---
---
Are you keen on composting? And are you keen to spread the word as well as muck? Could you encourage others to increase their knowledge and appreciate the benefits to the environment? If so, you might like to join a team of like-minded inviduals that make up Master Composters.
What are Master Composters? They are volunteers who encourage people in their local community to start composting at home, and offer support to people who are already home composting and may be having difficulties or need encouragement. There are Master Composters of every age group and they come from a wide variety of backgrounds, and this contributes to the scheme – Master Composters can reach the parts that other compost-promoting activities cannot reach as they talk to their families, friends, neighbours or work colleagues. They can also attend local events such as fetes, county shows, and carnivals, or perhaps contribute to local newsletters.
It has even been known for a Master Composter to hold a compost-themed children's birthday party.
Anyone can be a Master Composter – you do not need to be an expert as you will be able to attend a free comprehensive training course covering all aspects of home composting and, once trained, you will be fully supported with resources and offered the opportunity to attend further workshops.
You will also be able to access a list of activities and decide what and when you can contribute. It is entirely up to you to decide how much you do and how many hours you would like to be involved.
So if you have green fingers or, perhaps more importantly, a green mind, why not find out more about volunteering with Master Composters by looking on www.do-it.org.uk , calling 0845 3890389 or emailing volunteering@communityimpactbucks.org.uk. You will also find information about the hundreds of other volunteering opportunities in Buckinghamshire.
The Volunteer Centre for Buckinghamshire is part of Community Impact Bucks, an independent charity helping members of the public to get involved in community activity.
---

On being a Volunteer Steward at Chesham Museum by Fi Bingham
I have been a volunteer at Chesham Museum for the past year and have found it a most enjoyable experience which I can thoroughly recommend. As a volunteer steward I have learnt so much about Chesham and its history and feel pleased to be supporting the cultural fabric of the town. I have made many new friends through working with other stewards, and met and enjoyed helping museum visitors. Visitors often have interesting tales to tell about living and working in the town and are keen to learn more.
You don't have to be a history buff to be a steward but of course an interest in the town is a help. What are the duties of the stewards?
Opening up, turning on lighting and computers, operating the till, cashing up at the end of day and locking up. All these procedures follow a tried and tested routine. Tidying up, topping up sales items, a little light dusting, dealing with visitors, and of course having a nice chat (quietly) with your fellow steward (we always work inpairs) keep one happily occupied for the two hour slot.
The opening hours are arranged in a way which offers seven two hour "slots" each week to be covered by stewards. Some people do one a week, some one a month, most something between the two at a time convenient to them. New volunteers would always work with a more experienced person and receive appropriate training (don't worry - not too onerous!).
If you are looking for something interesting to do in your spare time why not give the museum a try? The museum is self-funding and mainly run by volunteers and urgently needs more helping hands. Stewarding isn't the only interesting volunteer opportunity - research, cataloguing, fund raising, guiding walks and hosting talks are all much needed museum activities. To register your interest call in at the museum during opening hours, contact us via our website www.cheshammuseum.org.uk, email us at info@cheshammuseum.org.uk or phone the museum on 01494 792549 and leave your contact details and we will get back to you. We would be so pleased to hear from you.
-------------------
Our programme of Fundraising and other Events continues with:
Saturday 11th September.
Chesham Museum, in partnership with Chesham Walkers are Welcome, are arranging a guided Heritage walk entitled 'Watkin's Walk: Chesham's Place in Railway History'. The walk will recreate part of Sir Edward Watkin's proposed rail route from Manchester to Paris via Chesham. Watkin (1819-1901) was Chairman of the Metropolitan Railway.
Come along to the Museum at 9.30am on 11th September from where you will be taken by volunteer drivers to Tring. The walk will start from there at 10am and will be approximately 9 miles, back to Chesham Museum via Chesham Station.
Please ensure that you have proper footwear, suitable for walking, appropriate protection for the weather and a packed lunch and water.
The walk is free but booking is essential. Telephone the Museum 01494 792549 or email info@cheshammuseum.org.uk or call in, 15 Market Square, Tues, Wed, Sat 11-3, Sun 2-4.
Sunday 12th September.
As part of 'Chesham Heritage Weekend' Chesham Museum will be open in the morning as well as the afternoon from 11.00am to 4.00pm. Admission will be FREE to all for this day only.
Mon 13 September, 10.00am - 12.00 noon.
Reminiscence Session - Schooldays theme at the museum. Come along and share your memories, bringing any photos and objects you would like to talk about. Space is limited so booking is advisable. £2.00 per person.
Monday 27th September, 8.00pm.
Talk at the museum by Janet Dineen, 'Lace & Straw Plait in Chesham' £2.50 per person (£2.00 for Super or Life Friends).
See our website www.cheshammuseum.org.uk for our full programme of Reminiscence Sessions, Heritage Walks and Talks and for details of how to book a place at one of our events.
---

Thames Valley Police - Community Messaging
Last week police responded to a report of a suspicious incident in Great Missenden. A neighbour had heard an alarm going off and went to investigate. He noticed a vehicle in the road and a man sitting in the driver's seat so called the police. The caller was able to provide a description of the vehicle and its registration number.
Police responded and were able to check out the driver and a passenger who claimed they were distributing leaflets advertising gardening services such as tree surgery, fencing and patio cleaning. The checks revealed that both men have a previous offending history and are not from the area. Whilst no incidents were reported in the area yesterday, this stop check would have disrupted any potential opportunities and provided useful intelligence.
Police rely on members of the public to keep them informed of anything suspicious. Don't think you are wasting their time, your information may seem insignificant but could be the final piece of a jigsaw.
The more information you can provide the easier it will be for the police to follow up. The following gives a brief summary of how you can help.
The incident:
Time date and place with as much information as possible.

When describing a person try to note the following:
Male/female, age, height, hair style and colour, build, clothing and any other distinctive features.

Description of the vehicle:
Make and model, colour and type of vehicle (saloon, estate, van), registration number (or part of it), direction of travel.
If you do see something suspicious report it straight away either on the non emergency number 0845 8 505 505 or if you think it is a crime in progress dial 999.
If you have any information in relation to this message, please contact Thames Valley Police on 08458 505 505
To find out more about Thames Valley Police in your area - please go to our website.

If you have information about crime but do not want to speak to the police, call Crimestoppers anonymously on 0800 555 111. Crimestoppers is an independent charity working to fight crime.
---

www.chilternfilmsociety.org.uk
Chiltern Film Society, starts its 42nd season on Wednesday 8th September at 8pm with an Italian film "I Am Love" as its first feature. As usual, its season will consist of 15 films, all shown at the Elgiva on Wednesday evenings between September and May. Membership is available for £48, a substantial saving on normal ticket prices.
The society, founded in 1969 by a group of local film buffs, brings a wide range of international and independent films to Chesham. For more information, see its website www.chilternfilmsociety.org.
---
Free Chiltern Walks - Try Before You Buy Autumn Programme
Introduction
Walkfree Breakfree Ltd is a new company based in the Chilterns to deliver walking and outdoor activity trips for groups, singles and couples throughout the UK and in our beautiful Chilterns.
Our free Chiltern walks – Try before you buy autumn programme. Walkfree Breakfree ethos is simple – we want to encourage participation by one and all – so please do take this opportunity if you can to enjoy one of our free day walks. Get the dates into your diary now and do remember to join our mailing list www.walkfreebreakfree.co.uk so that we can keep you updated with walk details. It is essential you reserve a place on a walk in advance by emailing iain@walkfreebreakfree.co.uk or contacting me on my mobile 07889 165278 as details may be subject to amendment.
We look forward to seeing you soon on one of our Try before you buy – Free Chiltern Day walks.
Wednesday 15th September: Dorchester: Wittenham Clumps & Clifton Hampden
A repeat of the very popular summer & wild swim walk but this time without the swim (but you never know if that sun shines!!). 10 mile walk starting at 12.30pm.
Saturday 25th September: Sculptures & trails in the Chiltern Woodlands
A pleasant 10 mile walk taking in the sculpture trail, Wormsley Park and the Aston Rowant National Nature Reserve where we enjoyed our summer glow worm adventures. Starting at 10.30am.
Tuesday 19th October: Trees and water – a glorious autumn mix
A 7 mile waterside walk around Henley & Fawley where we have an opportunity to enjoy beautiful beech woods, some lovely park land and the world famous Henley Regatta course on the river Thames. Starting at 1pm.
Sunday 14th November: Shades of autumn in the southern Chiltern Hills
A long 12 mile walks but at a pace to be enjoyed by all where we can enjoy the splendour of the Chiltern hills, taking in some beautiful churches. Starting at 10.30am.
Sunday 19th December: Festive Steps
Our annual Christmas walk with mulled wine & mince pies – this year to Wendover Woods and Canal we merrily go! A 6 mile energetic walk with a stop or two to enjoy a glass of hot mulled wine where we will be rewarded by glorious views across the Vale of Aylesbury on what we hope will be a sparkling clear winter's day. Starting at 10.30am.
Get the dates into your diary now and do remember to join our mailing list so that we can keep you updated with walk details. It is essential you reserve a place on a walk in advance by emailing iain@walkfreebreakfree.co.uk or contacting me on my mobile 07889 165278 as details may be subject to amendment.
---
An excellent Place. to work.
Due to phenomenal success we are recruiting self employed sales and lettings negotiators. Experience in the property market would help although excellent customer service skills coupled with selling skills is equally important. Choose hours to suit your lifestyle and the rewards are there for the making.
In the first instance please email sarah@a-place.co.uk.
---
Local residents to have their say on community health services
Buckinghamshire Hospitals NHS Trust is hosting a number of events across the county to talk about developing health services in the community and making the best use of our community hospitals.
Have your say by attending a local meeting. Details here.
---
SERVING EACH & EVERY YOUNG PERSON
The members of Chesham Youth Council are a voice for young people in Chesham.
Members consist of young people aged between 11 – 18 years who attend local schools or live within the Chesham district. They make sure that young people's voices are heard in many aspects of their community life. The Youth Council members work within the local community ensuring that young people views and opinions are heard.
In recent years we have obtained funding to run a Youth event showcasing what is on offer to young people. This was in partnership with Paradigm Housing and resulted in a Directory of Youth Services/Organisations which went to every young person at school in Chesham. We have also produced a leaflet on underage drinking written by young people for young people, called 'Are you an Idiot'. Our current project is a similar leaflet on 'Cannabis' – the gateway drug, again by young people for young people.
Recently we have put funding into the 'COP' cards scheme aimed at Y6 on our schools run which being run by Chiltern District Council and Thames Valley Police.
The Youth Council is formally run with a chair, vice chair, secretary and treasurer and comes under the umbrella of the Town Council. The Youth Council also has representative on other organisation such as 'Way In'.
They gain valuable skills and increased confidence by working as a team in organising activities, decision making, negotiating and communication skills when dealing with many different people. The skills they gain are all transferable and will prepare them for later life, making them very valuable member of their community.
The Youth Council meets once a month on a Wednesday at Chesham Town Hall from 4.30 p.m., but also has separate working meetings which are not so formal.
Youth Council members attend Town Council meetings and there are also opportunities to get involved in County, District and National Levels.
If you are interested and under 18 and wish to join us, or want more information, please contact us on 079 524 33378, email tpirouet@yahoo.co.uk or Chesham.youth@gmail.com.
---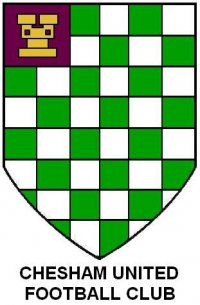 Non-League Football Day at Chesham United
With England playing Bulgaria the night before and no Premier League or Championship matches scheduled, Saturday 4th September has been earmarked as National Non-League Football Day. Grassrooots clubs across the country are encouraging fans of the professional game to come down and support their local sides for the day.
Chesham United Football Club, currently flying high at the top of the Zamaretto Southern League following last year's promotion, are offering any current season ticket holders of Premier League and Football League clubs the chance to come to their game against Tiverton Town on that day for the usual concession price of £5.50. Fans should bring their season ticket with them to qualify for the reduced rate. Normal adult admission is £9 with under 16s £2.50 and under 12s free.
The club is also using the day to support one of their chosen charities by offering fans an incentive to donate used football kit on the day. KitAid was founded by Chesham United season ticket holder Derrick Williams MBE, who visited Tanzania on a WaterAid supporters' trip in 1998. Derrick, being a mad footie fan, was amazed at the reception he received from children and adults in remote villages just because he was wearing his favourite football shirt. After two weeks in Tanzania, a flame was lit in Derrick's heart and he was on a mission to provide kit and equipment to the bare-footed children playing with footballs made of tied string and plastic bags.
Since then over 100,000 kits have been collected and distributed to children and adults in more than 30 countries and the charity boasts Graham Taylor as its patron.
Appropriately with the England versus Bulgaria game that weekend, one of Chesham United's previous KitAid collections was used to support Bulgarian children at FC Gagarin who now turn out each week in Chesham's colours.
Anyone donating kit at the Chesham United versus Tiverton game will be offered a £1 discount on the normal entry price although this cannot be claimed in addition to the season ticket offer.
Contact: Dave Jeffrey at news@cheshamunited.co.uk.