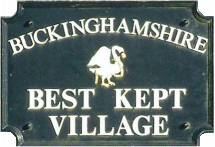 Who won the Bucks Best Kept Village Competition 2010? We did !
Chalfont St Giles has won this year's Pushman Cup award (rural population over 3,000). Well done the Parish Council's team of groundsmen !
---
Chalfont St Giles Country Show
This year's show will be held in Stone Meadow on Saturday 4th September and, as usual, will start with a fancy dress competition and procession of decorated floats from the Youth Club in Narcot Lane, down Deanway and into the show arena.
The theme for the show this year is The Wild West - which should give plenty of opportunity for imaginative floats and costumes. All we need now is people to join in the fun!
And you don't need a truck or a lorry - friends or families can get together and decorate a wheelbarrow in the theme of the Show, and even put a passenger in it - a sort of mini-float!
For full details please see http://www.csgshow.org/show/divisionK.html.
Please feel free to contact Mary Phillips on 01494 874681 with any queries - see you there!
---
Result of the HS2 Petition on the Number 10 website
Petition to reconsider destroying the Chilterns with the high speed rail proposal.
http://petitions.number10.gov.uk/railhighspeed
Government response
The new Government has a clear commitment to establish a national high speed rail network to help fulfil our ambitions for economic growth and a low carbon economy. The vision is for a truly national high speed rail network which will include links to Heathrow and potentially other airports to provide an alternative to short-haul aviation. We will also actively study the options for a link between the new high speed line and the existing High Speed One line - which links London to the Channel Tunnel.
The previous Government set up HS2 Ltd in January 2009 to look at the feasibility of, and business case for, a high speed rail line between London and the West Midlands. HS2 Ltd's report, published in March 2010, makes recommendations on routes and station options for high speed rail, and includes an assessment of costs, benefits and sustainability impacts.
HS2 Ltd's recommended route follows the A413/Chiltern Line transport corridor through part of the Chilterns and makes considerable use of tunnels, cuttings and existing transport corridors to minimise the environmental impacts in the Chilterns Area of Outstanding Natural Beauty.
Reducing and mitigating the local environmental impact of high speed rail will always be a very high priority for the new Government in taking this project forward. And no final decision regarding the route of the line will be taken until a detailed and inclusive public consultation has taken place.
---
Young able gardener seeks work
Over 10 years experience setting up and working on flower beds and vegetable patches. Rose and fruit tree pruning not a problem. I have transport and all my own hand tools except a mower.
The only reason that I have no job now is that I am sole carer for my 11 year old sister which unfortunately only allows me to work during school time, 9:10 am to 3:10 pm. If you have a gardening problem, and need some help please call me, xxxxxxxxxx, on xxxxxxxxxx or email me at xxxxxxxxxx.
---

For all but three days, the River Misbourne has flowed continuously through Chalfont St Giles since our work party on 1st February 2009. Together with the precious pond, it provides a wonderfully attractive amenity for the village.
Hard work plus natural movement and deposition of silt last year, gave a sufficiently good start this spring for the river to actually join up with the springs at Chalfont St Peter, making a continuous river from Gt Missenden to Denham for the first time in many years - despite the winter not being particularly wet. Even now the flow continues downstream of Chalfont St Giles for a remarkable distance for the time of year.
The focus of our work party on Sunday 18th July will be to clear some of the vegetation which is choking the river below Stone Bridge through to the open fields. If we can get enough done, this will reduce the water level above the Church Bridge (possibly eliminating the boggy patch opposite the Merlin's garden) and ensure maximum flow on into the fields, leading to further improvement. As you may have seen, this is a BIG JOB, so we do need as much help as we can get. It will be wet, muddy, and, hopefully, fun!
If you would like to join us - even if just for an hour or so - please contact Bob Older at bob@theolders.co.uk or Tel 01753 885131. We will be starting at 09.30 by the pond, but you arrive when you wish!
You can read more about Misbourne River Action on our website at www.misbourneriveraction.org.
---
Thames Valley Police - Community Messaging
Between 8am to 7pm on Tuesday 13 July front a rear number plates were stolen from a green Mini BMW at a property in Three Households, Chalfont St Giles.
-----------------------------------
Police have noted an increase in burglaries of unoccupied properties which are either undergoing renovation or having extensions built. To date the incidents have occurred in Chalfont St Giles and Seer Green but there is a good chance the offenders may move on to neighbouring areas.
High value power tools and a cooker hob have been stolen recently but it is not uncommon for plant equipment, metal and other items to be stolen.
Incidents occur once the site closes and/or overnight. It is possible the offenders may be watching and turn up shortly after the builders leave the site and thus arouse less suspicion. A van or trailer of some sort is usually needed to transport the items.
If you live near to a property development site, please be vigilant and if you see anything suspicious call the police straight away on 0845 8 505 505 or if you think it is a crime in progress then dial 999. Try to record the make and colour of the vehicle and registration number as well as descriptions of any persons.
If you have any information in relation to this message, please contact Thames Valley Police on 08458 505 505
To find out more about Thames Valley Police in your area - please go to our website.

If you have information about crime but do not want to speak to the police, call Crimestoppers anonymously on 0800 555 111. Crimestoppers is an independent charity working to fight crime.
---
The Summer Reading Challenge now in the Community Library
This summer, take a giant leap into the final frontier. Join Space Hop, and we'll help get your children hooked on books!
Every year, thousands of families all over the country are involved in the UK's biggest reading event for children in libraries, the Summer Reading Challenge. For 2010, the Challenge is called Space Hop.
The aim of the challenge is to get children to read six books from their library during the summer holidays. There is a brand new selection of children's books in the library.
Everyone who signs up for the Summer Reading Challenge 2010 can keep track of the books they read on a special fold-out poster. It's great fun for kids and what's more, it doesn't cost a penny to join.
For further details ask in the library.
www.chalfontstgiles.org.uk/shops/CommunityLibrary.htm
---
Services in the Parish Church this Sunday
8am - Holy Communion 1662 - Leader & Preacher: Tim Stacey
10am - Holy Communion - Leader & Preacher: Tim Stacey
6.30pm - Choral Evensong - Leader & Preacher: Tim Stacey
---
Infant of Prague Catholic Church Service
Saturday Vigil Mass will be held at 5pm.
---
Click here for the Surestart Chalfont Children's Centre summer activity timetable.
---
Webmaster for Workaid
Workaid refurbishes a huge range of unwanted tools and equipment – saws, planes, bevels, typewriters, sewing machines etc – and sends them to training centres and self-help schemes in some of the world's most disadvantaged communities, mainly in East Africa.
They are now wanting to set up a new website and to move up a notch or two in functionality and features. This is an exciting opportunity for someone with experience in web design. Workaid have a fabulous office in Chesham, and a lot of satisfaction and fun is guaranteed! Flexible hours at times to suit you.
For more information about this opportunity, please call 0845 3890389, email volunteering@communityimpactbucks.org.uk or look on www.do-it.org.uk .
The Volunteer Centre for Buckinghamshire is part of Community Impact Bucks, an independent charity helping members of the public to get involved in community activity.
---
House sitters available in August
Are you going away in August and require a semi-retired couple to house-sit for you? We will look after your pets and the garden, whilst making sure your home is looked after. I am a retired police officer and we have lived in CSG for over 20 years.
We can be contacted on xxxxxxxxxx, since we are away from home at present.
---
Panini Football World Cup 2010 Stickers

My sons are close to completing this sticker book. We have several stickers to swap or sell. If you are collecting these we may some stickers that you need and vice versa. Spreadsheet available.
Contact: Tracy - xxxxxxxxxx or xxxxxxxxxx.